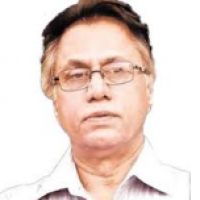 | | |
| --- | --- |
| Columnist Name | Hassan Nisar |
One of the most experienced and tycoon journalist in Pakistan, Hassan Nisar' urdu columns are available here with updated version on daily basis. You can find the latest Urdu Columns by Hassan Nisar at Darsaal in easy to read format online for the Pakistanis living in Pakistan or outside of the country. Hassan Nisar has a following of millions, not only in Pakistan, but also out of Pakistan just because his columns are fully intellectual and loaded with knowledge and excellent school of thoughts.
He started his career back in 1972 by writing for a magazine named as "Dhanak". After the his services in the Dhanak magazine as a writer, he started providing services as "Journalist" in Dhanak. He also used to write songs and compose poetry for different firms. Later he started to appear in TV Talk shows. His famous show "Merey Mutabiq" and Hassan Nisar' Urdu Column title "Chorahah".
Nisar started his career as a Journalist from Dhanak Magazine in 1972. Later he became the Journalist of Dhanak. He composed poetry, movie songs and edited a magazine Monthly Zanjeer in 1980, he appeared on TV talk shows in Urdu, including Meray Mutabiq and Choraha on Geo News.[citation needed]

He is also a member on a TV show Report Card hosted by Geo TV anchor Ayesha Bakhsh as well as Meray Mutabiq hosted by Shajia Niazi.[citation needed]

His commentaries in print and electronic media focus on contemporary Pakistan and its political history.