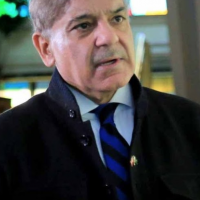 | | |
| --- | --- |
| Columnist Name | Shahbaz Sharif |
| Facebook | http://www.facebook.com/ShehbazSharif |
| Twitter | https://twitter.com/cmshehbaz |
Shahbaz Sharif is an Urdu columnist who writes columns in Urdu which is the national language of Pakistan. You can read latest columns of Shahbaz Sharif on this page. Urdu columns of Shahbaz Sharif are updated on daily bases with latest views and words on different aspects of the world including political and country's situation.
Mian Muhammad Shehbaz Sharif (born 23 September 1951) is a Pakistani politician who has been the Chief Minister of Punjab, in office since June 2013.
A member of the Sharif family, he was elected to the Punjab Provincial Assembly in 1988, and to the National Assembly in 1990. He was again elected to the Punjab Assembly in 1993 and named Leader of the Opposition. Elected a third time in 1997, Sharif was sworn in as the Chief Minister of Punjab on 20 February 1997.