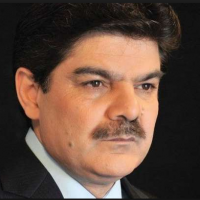 | | |
| --- | --- |
| Columnist Name | Mubashir Luqman |
Urdu Columns By Mubashir Luqman

Mein Ne Social Media Ka Istemal Kyun Band Kiya?
02 July 2018
Mubashir Luqman is an Urdu columnist who writes columns in Urdu which is the national language of Pakistan. You can read latest columns of Mubashir Luqman on this page. Urdu columns of Mubashir Luqman are updated on daily bases with latest views and words on different aspects of the world including political and country's situation.
Mubasher Lucman comes from a strong military family. He had four brothers, two died very young and the other two were in the army and he's the last remaining child of his parents. His father died when he was five and was bought up by his mother, who passed away in May 2017. Mubasher Lucman is a proud father of two children Fajar Lucman (Daughter) and Mustafa Lucman (Son).