Dispenser Dresser Jobs In Bhakkar, 10 March 2018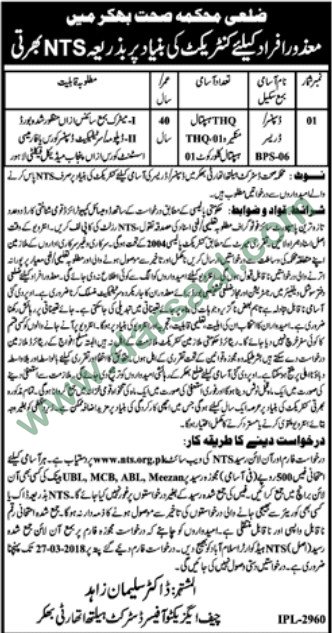 Dispenser Jobs In In Bhakkar was published in Jang Jobs on 10 Mar 2018. As per Dispenser Jobs In In Bhakkar details, there is a job in for job seekers those have Matric qualification.

Last date to apply for jobs in Bhakkar on Matric qualification for Dispenser jobs is 27 Mar 2018. Working hours for Dispenser in are 8 Hours a day and 40 hours a week. Dispenser job is related to Medical, Health Industry Jobs.

You can view more jobs published today 10 Mar 2018, jobs in Jang, Bhakkar jobs, Jobs for Matric qualification, similar to Dispenser Jobs In In Bhakkar.
Simlar Jobs to Dispenser
Today More Latest Jobs
Check More Today Jobs