Anti Narcotics Force - ANF Jobs in Pakistan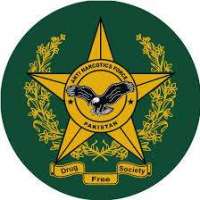 | | |
| --- | --- |
| Name | Anti Narcotics Force - ANF |
| Phone # | 051-2112240 |
| Website | http://anf.gov.pk |
| Address | Anti Narcotics Force Garrison/HQ National Park Road, Rawalpindi Cantonment, Pakistan. |
Anti-Narcotics Force, ANF is highly targeted to the soporific drugs and their illegal usage all around the Pakistan country. ANF is a Federal executive Bureau of Government of Pakistan. Its mission is to make Pakistan drugs free.
The Antinarcotics Force Pakistan is established since February 1995 by merging the Pakistan Narcotics control board (PNCB) & Anti-Narcotics Task Force (ANTF).
Headquarter:
ANF's Headquarter is located in National Park Road, Rawalpindi, Pakistan. Moreover, the office quarters are also present in Punjab (Lahore), Sindh (Karachi),in KPK (Peshawar) and in Baluchistan.
Charter of Duties OF ANF:
In order to control the supply and manufacturing of illegal drug substances within the country, Anti- Narcotics Force has to perform the following duties:-
Minimizing the trafficking, smuggling and distribution of narcotics and psychotropic things.
Taking part in eradication of opium poppy crop.
Un-functionalizing the heroin laboratories.
Checking out and investigation into assets of drugs barons.
Ensuring that drug traffickers are convicted expeditiously.
Enhancing international co-operation in fight against drugs with International narcotics control agencies all over the world as INCB, UNODC and DEA etc.
Reducing the demand of narcotic substances through preventive education campaign.
Introducing the harm reduction, rehabilitation programs.
ANF Job vacancies:
Following are possible vacancies with Baisc pay scale (BPS) in ANF:
| Designation | Sclae |
| --- | --- |
| Assistant | BPS-15 |
| Narcotics Inspector | BPS-14 |
| Sub Inspector | BPS-14 |
| Key Punch Operator | BPS-14 |
| Steno typist | BPS-14 |
| UDC | BPS-11 |
| LDC | BPS-09 |
| ASI | BPS-09 |
| Data entry Operator | BPS-09 |
| Constable | BPS-05 |
| Constable Driver | BPS-05 |
| Constable Operator | BPS-05 |
| Driver | BPS-04 |
| Dispatch Rider | BPS-04 |
| Naib Qasid | BPS-01 |
| Orderly | BPS-01 |
| Cook | BPS-01 |
| Sweeper | BPS-01 |
How to apply on ANF Jobs?
Now, let's discuss how to apply:
ANF JOBS Online Application form download| Anti Narcotics Force
ANF job appication form&deposite slip download | uts.com.pk (universal testing service)
The interested candidate must visit this page for latest ANF jobs.
Download the appropriate application form and deposit slip uts.com.pk
Fill out the application form and deposit slip properly.
Then, submit fee at bank. (The fee won't be refundable)
Send the application form, deposit slip and an attested copy of your CNIC through courier to UTS head office 278-Nazimudin Road, F 10/1, Islamabad.
What are terms and conditions?
Both male and female candidates can apply.
Applicant with fake documents/false information or incomplete application shall be rejected on detection at any stage of recruitment process.
No DA/TA admissible for appearing in written test and interview.
The age would be calculated up till last date of submission of application.
Age limit must be under 18-35 years up till the closing date.
is there age limit realxation?
The age limit relaxation by 3 years is given to candidates belonging to Tribal areas, Azad Kashmir, Gilgit/Baltistan and Baluchistan.
Who are applicable for interview?
Only shortlisted candidates are allowed for interview.
What are criteria of selection?
The candidate who passes the written test and is medically fit, is preferred to be selected.
Can candidate apply in more than one post?
Yes, if the candidate wants to apply in more than one position, he must fill another application form and deposit slip of that post of interest.