Federal Public Service Commission - FPSC Jobs in Pakistan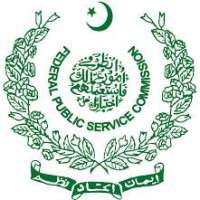 | | |
| --- | --- |
| Name | Federal Public Service Commission - FPSC |
| Phone # | 051-9205075 (25 lines) |
| Fax # | 051-9213386 |
| Website | http://www.fpsc.gov.pk/ |
| Email | [email protected] |
| Address | Federal Public Service Commission, Agha Khan Road, Sector F 5/1, Islamabad. |
As a federal bureau of Pakistan, Federal Public Service Commission (FPSC) is in charge of hiring top bureaucrats and civil servants in the various departments of Government of Pakistan.
First set up in British India (1926), commission later (1947) established in Pakistan, under the provision of an act of Government of Pakistan within headquarter at Islamabad.
Currently, the commission is working under the constitution of the Islamic Republic of Pakistan (article 242).
Composition of Commission:
A chairman, directed by President (article 242), and the members design the main skeleton of the commission. On the behalf of Prime Minister of Pakistan, President of Pakistan appoints the members of the commission. To assist the commission, a secretary presents a network among government agencies, the commission, and its secretariat.
Commission protection:
The commission has the right to work without any external pressure or interference of the Government. Without the instruction of Supreme Judicial Council of Pakistan, members can't be eliminated from the Commission.
For government job seekers, in addition to competitive annual examination (CSS), FPSC arranges the exams for jobs in public and private organizations. With the time duration of 15 days to apply for a job, FPSC announces its jobs in local newspapers like Dawn, Daily Jang, and Express.
FPSC and CSS stand for what?
FPSC stands for Federal Public Service Commission and CSS stands for Central Superior Services.
What is the difference between FPSC and CSS?
FPSC is federal agency of Pakistan which recruits bureaucrats through CSS competitive examination.
What charges are required to apply for a job?
Different charges are fixed for different posts for their challan form.
For BPS-14, BPS-16, and BPS-17 posts, 300/- rupees are fixed
For BPS-18 post, 750/- rupees challan are required
For BPS-19 post, 1200/- rupees challan are required
For BPS-20 and higher posts, 1500/- rupees challan are fixed
When FPSC publishes its jobs?
On the first week of every month FPSC publishes its job.
In which cities FPSC posts are available?
FPSC jobs are available in Islamabad, Rawalpindi, Karachi, Lahore, Peshawar and other cities of Pakistan.
What are the basic criteria required for a job in FPSC?
Bachelor's degree, MBBS, Master's degrees, and Ph.D. from HEC recognized university and experience in the relevant field come under the basic requirements for a job.
How to apply for a job in FPSC?
Check Latest Jobs on This Page and Apply online at http://www.online.fpsc.gov.pk
Click on the option of "Apply Online"
Click on the "Create Account" option and create your own account using your CNIC, Email ID, and password. Now, login your account to fill your profile.
Provide the following information to complete your profile.
Personal Information
Educational Information
Service /Job Information
Now apply for your required post.
Click on "Available jobs" at the top of the screen and click the "Apply now" button against the post you desire to apply.
Provide your paid challan form information including date, bank name with location, amount challan number and your center for the test.
NOTE: Don't send hard copies of your application to the FPSC.
Can any change be made after the online application submission?
Yes, correction can be made before the closing date of application. Use the guidelines on following link http://www.online.fpsc.gov.pk
What is the next procedure after qualifying initial screening test?
After FPSC result qualifying initial screening test, one must qualify an interview.
In which cities, FPSC conducts interviews?
In addition to Islamabad, FPSC conducts interviews at its Provincial Headquarters (Karachi, Lahore, Peshawar, and Quetta).