Punjab Information Technology Board - PITB Jobs in Pakistan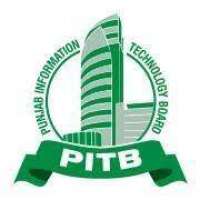 | | |
| --- | --- |
| Name | Punjab Information Technology Board - PITB |
| Phone # | +92-42-35880062 |
| Fax # | +92-42-99232123 |
| Website | www.pitb.gov.pk |
| Email | [email protected] |
| Address | 11th Floor, Arfa Software Technology Park, 346-B, Ferozepur Road, Lahore |
PITB is the abbreviation of the Pakistan Information Technology Board. PTIB, an autonomous body set by Government of the Punjab. The Board aims at not only modernizing the governance techniques through transparency induced methods but also at increasing the digital literacy of the citizens - among many other services. PITB is committed to effectively and efficiently provide IT services and framework to the government and local and international businesses.
This include many filed such as e-rozgaar program, e-permit-FOAS, e-khidmat Markaz, qeemat Punjab e-learn Punjab HRMIS (Human Resource Management Information System) and smart system to monitor development projects.
Listed below different projects of PITB:
Punjab Public Management Reform Program
Automation of Counter Terrorism Department
BISE: Inter Online Admissions
Citizen Feedback Model (CFM)
Computerization of Transport Department
Crime Investigation Reporting System
Database of Livestock Farmers
Domicile Management System
Driving License Issuance Management Information System Phase-II
Medicine Inventory Management System
MIS for Maintenance of Agri-Machinery
Model Police Stations
Motor Transport Management Information System
Motor Transport Management Information System (MVR-MTMIS Phase II)
New IT Initiatives at Lahore High Court and District Courts
Spatial Data Infrastructure
Uniform Inventory System Sahiwal Police
Agriculture Marketing Information Service
CDGL: Citizen e-Services
Citizen Contact Centre
e-Learn. Punjab
Environment Protection CMS
Law Portal - Online Availability of Laws
Online College Admissions System
Punjab Blood Line
Punjab Health Line
Punjab Youth Internship Program
Student Bus Cards
Wasa Complaint Management System
Web Presence/Improvement
Zimmadar Shehri Helpline
Dengue Activity Tracking System
Disease Surveillance System
Flood Monitoring System
Hajj Monitoring and Management Systems
Health Watch
VET Inspect
Plan9
Plan X
Tech Hub
Capacity Building
CM e-Rozgaar
Looking for the requirements program that announced different fields. Let me tell you just scroll the page there are given the list Citizen Facilitation & Service Centers Possible Vaccines list are given below :-
Manager
Senior Manager
Program Manager
Technical Lead
Project Director
Divisional IT Coordination
Program Manager
Data entry Operator
App Developer
Administrator
Supervisor
Assistant Manager
Engineer
Quality Assurance
Software Developer
Graphic Designer
Lab Manager
Network Administrator
Data Scientist
Software Architect
Assessment Field Officer
Technical Content Writer
Trainer
Project Director
Driver
Conditions to apply in Punjab Information Technology Board:
Both male and female can apply for this job.
Punjab domicile is necessary for this job
At least 3 to 5 years experience in the related field
No Ta/Da admissible for the applicant
To apply online you must have a profile and then you may apply to the relevant post
Only shortlisted candidates will be allowed in the interview
Age limit is 30-40 years.
Middle Pass, DAE, Matriculation Pass, Intermediate and Bachelor candidates can apply
How to apply Punjab Information Technology Board?
Punjab Information Technology Board is a vast network of Pakistan so; I tell you before that, candidate who want to apply in Punjab Information Technology Board must create a profile because to apply in Punjab Information Technology Board the procedure is online.
What are the benefits of this job?
This job is very beneficial because in the very job PITB gives the best package to its employ. PITB gives maternity and paternity leaves as well as health insurance and free residences.
Where the test is held?
Test is held in many districts of Pakistan.
When the result is announced?
The result is announced within one month.
What is the next step after passing the test?
After passing the test, department conduct the interview so the most eligible candidates are selected.
How to apply in PITB?
Check this page for latest PITB jobs in Punjab. Select your desired job and go to their website www.PITB.gov.pk
Select your category
Download online form to suitable post
Follow all instructions
Provide document or challan form if need
Provide academic record
Fill their requirements and then apply