Protests Against Pakistan Medical Commission Continue On Social Media
Fri 25th June 2021 | 09:28 PM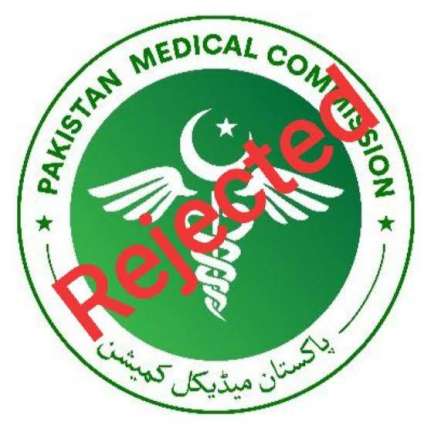 #PAMIrejectsPMCact has been a top trend in Pakistan, with students, doctors, students and social media users pointing out the anti-education points in the Pakistan Medical Commission Act.
As per @PAMIOfficial1's whitepaper PMC which did not have even a single member having any experience of running a medical or dental college or working in it made disastrous policies for the 2020-2021 admissions. #PAMIrejectsPMCact

— Fahad Malik (@Fahad4014) June 25, 2021
Lahore: The Pakistan Association of Private Medical and Dental Institutions had recently issued a white paper against the performance of the PMC, after which information about the flaws in the Pakistan Medical Commission Act reached every section. Speaking at a press conference in a private hotel a few days ago, PAMI officials said that the PMC was bent on destroying private medical and dental colleges. The authority to destroy colleges has been given, work is being done for the interests of foreign medical colleges instead of Pakistan. Addressing the press conference, PAMI President Prof. Dr. Chaudhry Abdul Rehman said, this is the big scandal than Sugar, flour and Ring Road is emerging as PMC continue to destroy the education sector of Pakistan. A systematic destruction of medical educational institutions is taking place.
The examination regulation for MDCAT has confused the students. Students have lost the right of rechecking or questioning the authenticity of questions. Also the company which is selected, established on 21st May, whilst the deadline of by PMC was 10th May. #PAMIrejectsPMCact pic.twitter.com/PupOyfFIMX
— Tayyaba (@TayyebaZee) June 25, 2021
Incompetent people have been imposed on medical educational institutions in Pakistan. A lawyer has been appointed as the vice president of PMC. He added that Ali Raza a lawyer and vice president of PMC has been favoring his relatives. What is the merit of Ali Raza? How did he become the vice president of PMC? How can a person who did not come on merit himself bring merit?
The press conference was followed by an atmosphere of unrest among young doctors, senior professors and social circles, and social media users launched a campaign against the PMC Act on Twitter.