[ Trick ] How To Make & Post 3D Photos To Facebook
Sat 27th October 2018 | 01:02 AM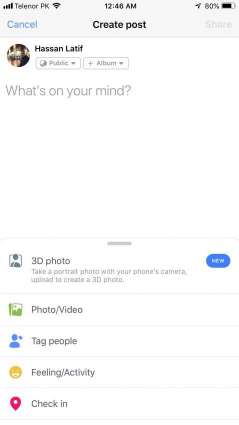 Facebook has recently launched a new exciting feature that has added much value to the existing photogenic people as now you can post 3D photos on facebook and we have made a guide on how to post 3D photos on Facebook through iOS (Apple) devices and Android.
Facebook 3D Photo options add more depth to your photos and foreground and background looks different as shown in 3D photos.
1. Open Facebook App in iPhone 7 Plus, 8 Plus, X, Xs, Xs Max
2. Like https://www.facebook.com/Facebook360/
3. Force close the facebook app
4. Now launch the facebook app again and start creating a new post. You will see 3D Picture post type
5. Touch the 3D Photo and you will see an empty gallery. Touch on Cancel and re-touch 3D Photo. It will open Portrait photos in your gallery.
6. Select any portrait photo and facebook will convert it to 3D picture
See it in action here.